Discover more from Social Studies 📘🧠
Weekly Tech Twitter news and analysis from the lens of the social sciences.
Over 3,000 subscribers
🧠 A Primer on Social Money by Holyn Kanake
How creators will become corporations and the launch of $THANKS
Yo! ✌️ I'm Brett! I am a founder and former Cognitive Science researcher. Social Studies is a semi-weekly newsletter for people building great products for humans. It includes recaps of what happened on Tech Twitter every week plus deep analysis using frameworks from Psychology, Economics, and the other Social Sciences.
---
✨TLDR
🔅 Introducing Holyn Kanake - Holyn is the author of (un)real, a newsletter exploring the grey area between IRL and URL (digital life). She's been exploring social money lately and offered to do a guest post on Social Studies!
🙏 Introducing $THANKS - I decided to mint my own social money - $THANKS. It's given to people when they are nice. A token of your appreciation so to speak.
A Primer on Social Money by Holyn Kanake
📉 The creator economy is inefficient - The attention economy has benefited corporations. The creator economy helps creators a lot more but leaves a lot on the table. Fans can't participate in the upside of a creator's growth for example.
💸 How social money fits in - Social money is branded cryptocurrency. It allows creators to reward fans for different kinds of engagement. Liking and retweeting your favorite creator's content for example is finally worth something.
🔮 The future of social money - The market cap of social money on Roll will soon exceed $250M, and has been growing exponentially since July. We're in the nascent stage of creators as corporations. The impact of this new paradigm cannot be understated.
---
🔅 Introducing Holyn Kanake
Over the course of writing Social Studies, I've come across tons of amazing writers also exploring the intersection of psychology, philosophy, etc. and technology - people like David Mattin, Ani Pai, Reggie James, Ayush Sharma, Alex Danco, and Holyn Kanake.
It's my hope that Social Studies becomes the nexus for these brilliant ideas rather than just my own scratch pad. As the first step towards this vision, I'm excited to share this first guest post by Holyn Kanake with you!
Holyn works in Strategy and Operations at Twitter and writes (un)real, a newsletter exploring the grey area between IRL and URL (digital life). She's written about everything from Quibi to the history of "time" to social money. It was that last one that really got my attention.
In July 2020, Holyn released a digital currency for her community called $HOLLA. People earn $HOLLA by subscribing, following, and engaging with Holyn's content. It's just like Bitcoin or Ethereum, but built solely for Holyn.
After reading her essay on the topic, it got me thinking it would be fun to explore this space both by writing about it with Holyn AND minting some social money of my own.
---
🙏 Introducing $THANKS
$THANKS is a token of your appreciation. Literally.
It's social money that is awarded to people when they're nice. Every moment where you would say the word "thanks," is an opportunity to give $THANKS.
I worked with Roll to mint 2,000,000+ $THANKS, which I, as well as a small group of extremely kind individuals will be giving out to the nicest people we know over the coming weeks.
To get $THANKS, be kind on Twitter. Give compliments, offer your services for free, etc. If someone from our community takes notice (by mentioning @thethankful_), you'll receive $THANKS.
thankful.fyi
wants to spread positivity on the internet by releasing his token $THANKS, which is given to people who say nice things :) I love it
@thatguyBG
! 🙏🙏
thankful.fyi
THANKS
$THANKS is a new kind of money you get when you say nice things on Twitter.
People who hold at least 100 $THANKS will get access to a private discord server called THE THANKFUL - it's basically a community of the nicest people on the internet.
So what's the point?
Two things:
Explore the wild weird world of social money

Understand what happens to humans when good will becomes a financial transaction (maybe it's been a transaction all along?)
This may still sound a little confusing. Here's Holyn with an incredible primer on social money:
---
📉 The creator economy is inefficient
In June I wrote, "the internet democratized and decentralized media and, subsequently, attention." Unsurprisingly, the commodification of attention disproportionately benefits corporations instead of the users who produce some of the most viral and engaging content on the internet. User-generated (creator) content is severely undervalued.
Today, content creators monetize their social presence through advertising or sponsorships, but these limited methods are often unstainable. That's why creators are turning to solutions like Superpeer, Patreon, and Gumroad to monetize their audiences. While these solutions help monetize creator time and content, they don't always allow creators or their supporters to participate in the upside of any future success. These solutions also disregard engagement, one of the most important social metrics and the cornerstone of the experience economy.
If you log into YouTube or Instagram, you'll see that people seek to connect with and actively participate in creator content. Why not bypass the platforms and create a world where audiences are rewarded for their engagement?
💸 How social money fits in
Creators can bridge the gap between content creation, engagement, and monetization through social money, which are branded cryptocurrencies/tokens. Think Bitcoin or Ethereum, but branded … like a $BEYHIVE token for Beyonce.
Unlike existing solutions, social money is platform-agnostic and allows creators to monetize their content while also incentivizing their community for engagement. With social money, something as simple as liking and retweeting your favorite creator's content is finally worth something and, let's be honest, you were going to like and retweet your favorite creator's content anyway. With social money, everyone wins.
For example, you can't buy $HOLLA today, you have to earn it by subscribing to my newsletter, by getting your friends to subscribe, or by Tweeting about it. When $HOLLA is eventually liquid, my community will benefit from holding a token that has market value. Much like the stock market, the $HOLLA valuation will be based on the number of tokens in circulation and the token market price.
Social money creates economies where content, including services and products, are appropriately valued by supply and demand, and not by cost per impression. If things are going well, the value of a token increases, and if someone is getting canceled, then the value decreases. This makes social money a better and more holistic way to monetize than existing solutions.
Yes, this is where I'm obligated to say ✨the blockchain will solve everything.✨
Social money gives a new meaning to social capital.
Social money mimics models and behaviors that already exist. For example, Reddit has Coins that users can use to award exemplary posts or comments. This year, Reddit began testing its digital token that it plans to scale into a crypto-powered rewards system for all users. On Twitch, users can pay/tip streamers using crypto. And, Facebook is of course creating its own token, the Libra Blockchain, scheduled to launch this year.
Though nascent, social money (or social tokens) already comes in three flavors:
🤓 The personal token
Examples: $ALEX, $KERMAN, $PAInTs
The personal token is created to support and invest in an individual's goals whether professional or personal.
In April, Alex Masmej, a Parisian founder, "tokenized himself" via $ALEX and raised $20K from 30 investors. As $ALEX holders, these investors have voted on Alex's life decisions and will get a share of Alex's income for the next three years ($100K cap). Today, $ALEX has a $150K market cap, down from a $400K market cap in September.
"$ALEX is a way for people to invest in myself and get to know me better. If I succeed, there is an implicit contract that I will reward people who bet on me early on." - Alex Masmej
One of the more fascinating personal tokens comes from Brooklyn Nets star Spencer Dinwiddie who tokenized his three-year, $34.4 million contract with the Nets under the Professional Athlete Investment Tokens ($PAInTs) token. Accredited investors can buy one $PAInTs for $150,000.
🌎 The community token
Examples: $FWB, $KARMA, $WHALE, $CHERRY, $JAMM, $YUP, $THANKS
The community token is created to bring people together based on a common interest or mission. Unlike the personal or fan club tokens, most if not all members of the community are content creators and contributors who are equally invested in its success.
The $FWB token governs the Friends With Benefits community that gathers thinkers and creators in a private discord server. While $FWB was founded by an individual (Trevor McFedries, founder of Brud), it's supposed to function as a social network with "value because of the content and ideas the users of that social network create and share." For just 50 $FWB, you can join the community and particulate in any upside to the token's economics. Other examples of community tokens include $CHERRY for NSFW creators, $KARMA DAO professional networking group, $WHALE community backed by non-fungible tokens (NFTs), and many more.
🤩 The fan club token
Examples: $RAC, $FIRST
The fan club token is a hybrid that brings together fans (a community) based on common interest in an individual's content. This token differs from the personal token because, with it, people are investing in personal brand and notoriety, and not an individual. In other words, people are investing in Drake and not Aubrey Graham.
This token recognizes that creators are natural community builders and aims to incentivize both sides of the table. For example, Grammy-winning musician and producer RAC recently launched his community token, $RAC. With this token, RAC aims to show that "creative ownership directly between artists and their communities" is possible. Creative collaboration also becomes more seamless.
RAC followed up the launch with a collaborative digital artwork on SuperRare, an art marketplace. Fans bid on the art piece, breaking the SuperRare record at $26,128. Similar to RAC, producer and artist Harrison First recently launched the $FIRST Generation club which will unlock new ways for fans to stay in touch with the artist and become more involved in his creative process and music creation.
🔮 The future of social money
Even before the negative implications of COVID-19, people were balancing multiple streams of income and had a portfolio of jobs: freelancing, content creation, a part-time job, a full-time job, ridesharing, and more. As people get laid off or furloughed, they will turn to content creation as a means to catapult their expertise into an audience/community.
We're in the nascent stage of creators as corporations. Goodbye stonks, hello tokens.
Social money is gaining full steam. Roll, a startup that provides social money infrastructure, has minted over 250 tokens that now have a fully diluted market cap that will soon exceed $250M.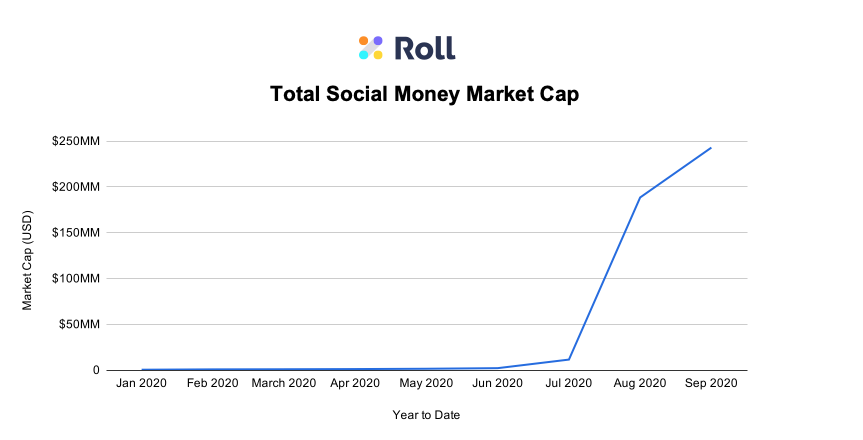 This chart speaks for itself.
Community builders, musicians, founders, artists, and other creators will turn to social money to monetize their creations, content and otherwise. This will lead to … the death of ads! Well … probably not. We can dream, but advertising has its place in the ecosystem; creators will continue to have a menu of monetization options, including social money. Regardless, I believe that social money is the most scalable and sustainable option. It will enable creators to function as corporations, capturing and appreciating value for themselves and their token-holders.
Imagine communities where all members have a stake. Imagine founders who can finance their ideas from angels around the world. Imagine multi-billion dollar personal brands. As Brett says, "social money could be the new like button."
Ultimately, we'll all just be living on an internet with creators as the kings and queens of their own tokenized communities.
---
---
🙏 Thanks
Thank you for taking the time to read the whole essay! In addition to the usual TikTok video, I thought I'd start giving out $THANKS as well 🥰
Here's 20 $THANKS as a token of my appreciation. Collect it here.
Here's a banana getting surgery