Creator Mansions, Shitposts & Chief Meme Officers
A psychoanalysis of the venture capital industry and the future of digital communities
Yo! ✌️ I'm Brett! I am a founder and former Cognitive Science researcher. Social Studies is a semi-weekly newsletter for people building great products for humans. It includes recaps of what happened on Tech Twitter every week plus deep analysis using frameworks from Psychology, Economics, and the other Social Sciences.
🚨 Help me make Social Studies even better! Please fill out this quick survey for a chance to win a $25 Amazon gift card!
✨TLDR
🌴 We started a Hype House for startups - I just moved into a mansion in Tulum with 19 entrepreneurs. It's like a TikTok collab house, but probably more cringe.
🏠 What is a collab house? - Collab houses are modern reality TV shows. They're focused on social media growth for entertainers but will include professionals as well.
🤪 The rise of the Chief Meme Officer - More and more VCs are shitposting these days, creating satyrical tik tok videos and memes. Why is this happening?
📈 Brand is the most valuable asset for a career - Brand increases in value over time (skills decrease) and can drive up the value of any product.
🏢 The rise of micro-entrepreneurs - Entire businesses (both solopreneurs and venture scale) are being built on the backs of brands (social media followings).
💩Where shitposts fit in - Memes and videos are easy ways to drive growth. In competitive industries (like VC) they are used to mock competition and win deals. Importantly, they resemble content similar to entertainment influencers.
🚀 More professional collab houses will emerge - As content from professionals more closely resembles content from entertainers, methods for creation will converge. Namely, more professionals will choose to participate in collab houses.
🌴 We started a Hype House for startups
On Friday, I moved into Launch House, a mansion in Tulum housing 19 entrepreneurs for the month of September.
Basically Hype House for tech people.
The announcement stirred up quite a commotion.
Just a few days ago, Launch House didn't have a name, let alone a website and active Instagram, Twitter, and TikTok accounts. The point was simply to get some people to quarantine together in a nice place and launch some cool projects over the course of a month. We had all been feeling isolated and unproductive amidst the pandemic, and this was our solution.
But then our cheeky ideas got the best of us and it became ✨a thing✨
And tbh, it really should be a thing.
🏠 What is a collab house?
Collab houses are physical mansions (usually in LA) rented out by groups of influencers (usually on TikTok) centered around one theme - growth.
If social media is replacing television, collab houses are replacing reality TV shows like Big Brother and Terrace House.
Collab houses exist to elevate the careers of influencers through:
🤝Collaboration - Cross pollinating audiences by creating content together is one of the main ways any creator grows their audience. Collab houses make collaborating 10x easier.
📚Skill sharing - Improving at any craft is best done by sharing learnings with peers. Collab houses make this easy.
❤️Camaraderie - There are trials and tribulations with any career. Collab houses create spaces for people to discuss and overcome them together.
The truth is, there there have been co-living experiences across industries that accomplish many of these things for years:
Corporate training - Deloitte University offers training programs to Deloitte employees at a beautiful facility in Texas.

Artist residencies - The Land is an artist residency program

University education - (do I really have to explain this one?)
So what's different about collab houses?
𝘾𝙤𝙡𝙡𝙖𝙗 𝙝𝙤𝙪𝙨𝙚𝙨 𝙖𝙧𝙚 𝙡𝙖𝙨𝙚𝙧 𝙛𝙤𝙘𝙪𝙨𝙚𝙙 𝙤𝙣 𝙨𝙤𝙘𝙞𝙖𝙡 𝙢𝙚𝙙𝙞𝙖 𝙜𝙧𝙤𝙬𝙩𝙝.
So, of course entertainers who build their businesses on social media (e.g. TikTok influencers) would want to participate in collab houses.
So why would professionals care?
Because professionals are becoming social media influencers as well.
🤪 The rise of the Chief Meme Officer
There's something strange happening in the venture capital industry. The newest generation of investors create memes, shitposts, and tik tok videos as a core part of their job.
This is an excerpt from a recent job posting from Founder Collective:

And this isn't limited to venture capital.
What's going on here?
𝙒𝙝𝙮 𝙖𝙧𝙚 𝙨𝙚𝙧𝙞𝙤𝙪𝙨 𝙥𝙧𝙤𝙛𝙚𝙨𝙨𝙞𝙤𝙣𝙖𝙡𝙨 𝙗𝙚𝙘𝙤𝙢𝙞𝙣𝙜 𝙨𝙝𝙞𝙩𝙥𝙤𝙨𝙩𝙚𝙧𝙨?
📈 Brand is the most valuable asset for a career
After a certain point, the value everything - from handbags to board seats - comes down to brand.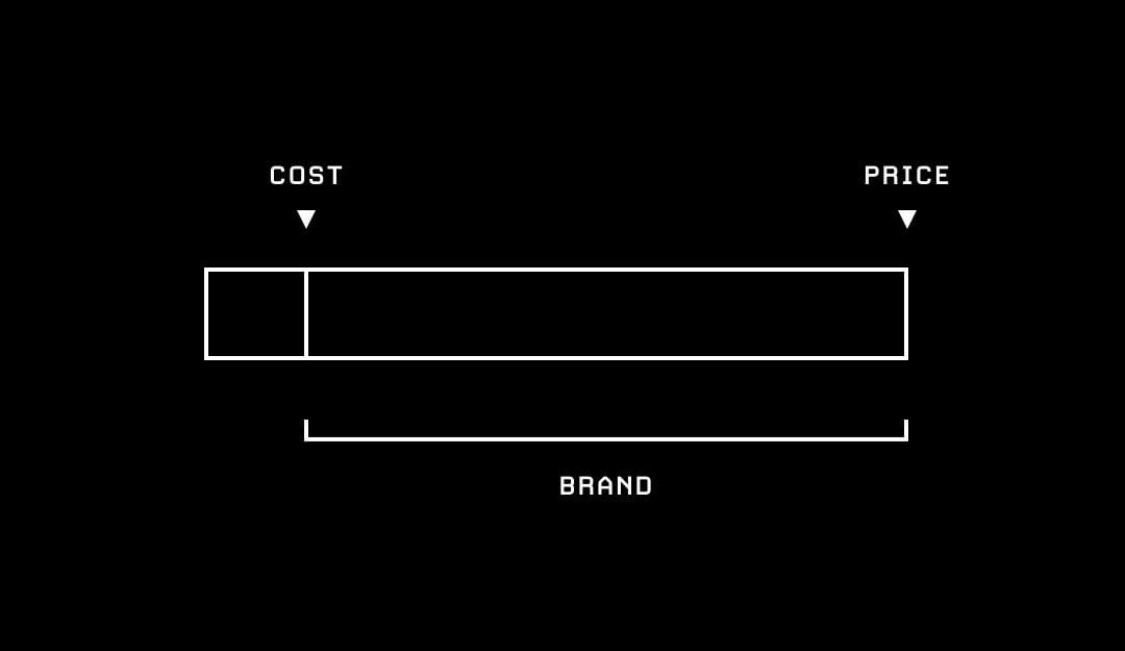 For professionals, a stronger brand means higher paying consulting gigs, better deal flow for sales/investing/hiring, etc.
Brand is also one of the most resilient assets to any career. Brands can actually increase in value over time. Skills, on the other hand, mostly decrease in value - technology makes most skills irrelevant over time.
As a result, professionals have constantly sought out ways to improve their brands. Some examples:
Writing books and op eds

Speaking at conferences

Appearing on TV, radio and podcasts

Completing higher education.
What many are realizing is that building an audience on a platform like Twitter is one of the most reliable path towards increasing one's brand. On Twitter, brand is also highly measurable in a way that was not previously possible.
This has caused an explosion in businesses built around social media followings.
🏢 The rise of micro-entrepreneurs
Investor Li Jin says we're witnessing the beginnings of the unbundling of work, where more and more individuals are choosing to build independent single-person businesses instead of working for companies.
David Perell is a classic example. Instead of working for a traditional company, David makes his money (a lot of it) selling online courses and angel investing. Twitter is his top of funnel.
Put another way, Twitter has allowed David to capture an audience. He can sell any number of products he likes to monetize it.
In this so-called passion economy, other examples include Lenny Rachitsky (newsletters), Tiago Forte (courses), and Li Jin herself (investing).
Social media followings are also being utilized to grow venture-scale businesses as well. Austen Allred (LambdaSchool), Domm Holland (Fast), Erik Torenberg (On Deck/Village Global) and others can trace the majority of their key hires and customers back to Twitter where each has a strong presence.
And this trend is likely to continue.
So if building a strong following on social media is crucial to building a successful business, how do you do that?
💩 Where shitposts fit in
There are some tried and true methods for building an audience on platforms like Twitter.
In general photos and videos receive much more engagement than text content but most of the photo and videos on Tech Twitter are memes, non-serious Tik Tok videos and other shitposts.
What's going on? Competition
Since there's so much competition and so little differentiation between products, more VCs are utilizing mockery (by way of shitposts) as a way to stand out and shut down competition.
Psychologists Jayne Raisborough and Matt Adams suggested that humans use mockery to signal moral superiority and set normative standards for behavior in groups. By creating memes and Tik Tok videos mocking venture capital, VCs are stating:
"I am better than other VCs"

"VCs who create serious content (especially content that takes a lot of effort) are trying too hard, and are thus low quality" (see Sprezzatura)
So where does this all leave us?
The key takeaway here is this:
𝘾𝙤𝙣𝙩𝙚𝙣𝙩 𝙘𝙧𝙚𝙖𝙩𝙚𝙙 𝙗𝙮 𝙨𝙚𝙧𝙞𝙤𝙪𝙨 𝙥𝙧𝙤𝙛𝙚𝙨𝙨𝙞𝙤𝙣𝙖𝙡𝙨 𝙞𝙨 𝙧𝙖𝙥𝙞𝙙𝙡𝙮 𝙖𝙥𝙥𝙧𝙤𝙖𝙘𝙝𝙞𝙣𝙜 𝙩𝙝𝙚 𝙨𝙩𝙮𝙡𝙚 𝙤𝙛 𝙘𝙤𝙣𝙩𝙚𝙣𝙩 𝙘𝙧𝙚𝙖𝙩𝙚𝙙 𝙗𝙮 𝙚𝙣𝙩𝙚𝙧𝙩𝙖𝙞𝙣𝙚𝙧𝙨
As a result, the methods for creating content (and thus growing on social media) will also converge.
Which means…
🚀 More professional collab houses will emerge
The professional world approaches with the non-professional world over time (it's just a few years late). Just like T-shirts and jeans became accepted in the workplace, social media-focused collab houses will become commonplace for some professionals as well.
In fact, the precursors to such houses are already prevalent
Digital communities like the Type House (which I am a part of along with Li Jin, David Perell, and Turner Novak who were referenced in this post) have been exploding lately. These look and act exactly like collab houses but with less emphasis on social media growth and obviously only take place online… for now.
As remote work continues to drive individuals towards online communities like Type House, I believe we'll see many of these communities establish IRL experiences like collab houses.
Community-centered businesses like Y Combinator and On Deck will likely be the first to do this, but I wouldn't be surprised if companies like Google or Facebook also did at some point.
Eventually, this may all bring us to what people like Balaji have been talking about for years - the emergence of sovereign, "cloud cities."
Hell… Less than 1 week into Launch House and we've already taken over 3 different houses in the area. It's only a matter of time before this becomes Launch City!
🙏 Thanks
Thanks again for reading! Leave a comment or reply - would love to hear your thoughts!